NEW in all Sharm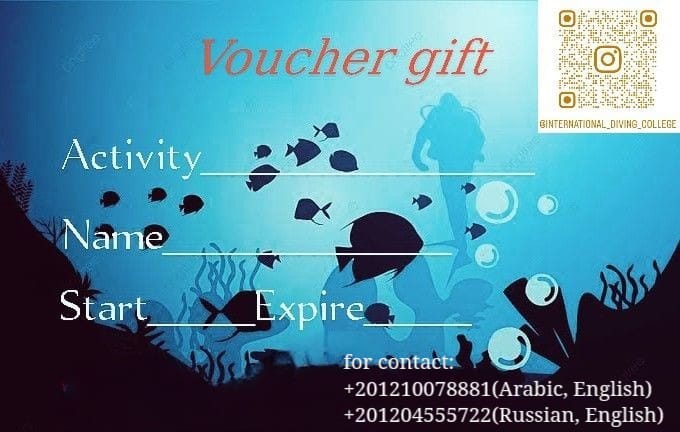 Если вы находитесь в Египте или нет, вы можете приобрести подарочный ваучер на любую из услуг нашего дайвинг центра!!!
ATTENTION!!!!
NEW in all Sharm !!!! Even if you are in Egypt or not yet, you can make your friends, family,kids happy by the best gift
buy gift voucher with any activity and present to anybody you want
Share your happiness with people, help them to join world of red sea
Voucher gift:
Intro diving
Courses
Discount for trip
CHOOSE WHAT YOU LIKE AND WE MAKE IT WITH BEST DESIGN, BEST WISHES TO MAKE YOU HAPPY
VOUCHER GIFTS WORKING ONLY WITH LEGAL STAMP FROM OUR DIVING CENTER FOR YOUR AND OUR SAFETY
Voucher gift can work from 2 months till 1 year. You can buy vouchers from us and we deliver it to you, or make it online and we send it by email
Новинка во всем Шарме
Данный ваучер вы можете подарить вашим друзьям, близким, детям по любому поводу и на любой праздник
Сделайте день ваших близких незабываемым, окунув их в мир красного моря
Подарочный ваучер на выбор:
Погружение
Морская прогулка
Курсы дайвинга
Скидки
ВЫБИРАЙТЕ ЧТО ПОДХОДИТ ИМЕННО ВАМ И ВАШИМ БЛИЗКИМ И МЫ СДЕЛАЕМ ЛУЧШИЙ ДИЗАЙН, ВЛОЖИМ САМЫЕ ТЕПЛЫЕ ПОЖЕЛАНИЯ, ЧТОБЫ ВАС ПОРАДОВАТЬ
ВНИМАНИЕ ВАУЧЕР ДЕЙСТВИТЕЛЕН ТОЛЬКО ПРИ НАЛИЧИИ ШТАМПА ОТ НАШЕГО ДАЙВИНГ ЦЕНТРА!!!! ПОЖАЛУЙСТА ПРОВЕРЯЙТЕ ПЕРЕД ПОКУПКОЙ, ЭТО ДЛЯ ВАШЕЙ И НАШЕЙ БЕЗОПАСНОСТИ, ОСТЕРЕГАЙТЕСЬ МОШЕННИКОВ !!!!
Приобрести ваучер можно на срок от 2 месяцев до года. Можете заказать и получить лично в руки, либо мы вышлем вам онлайн по почте